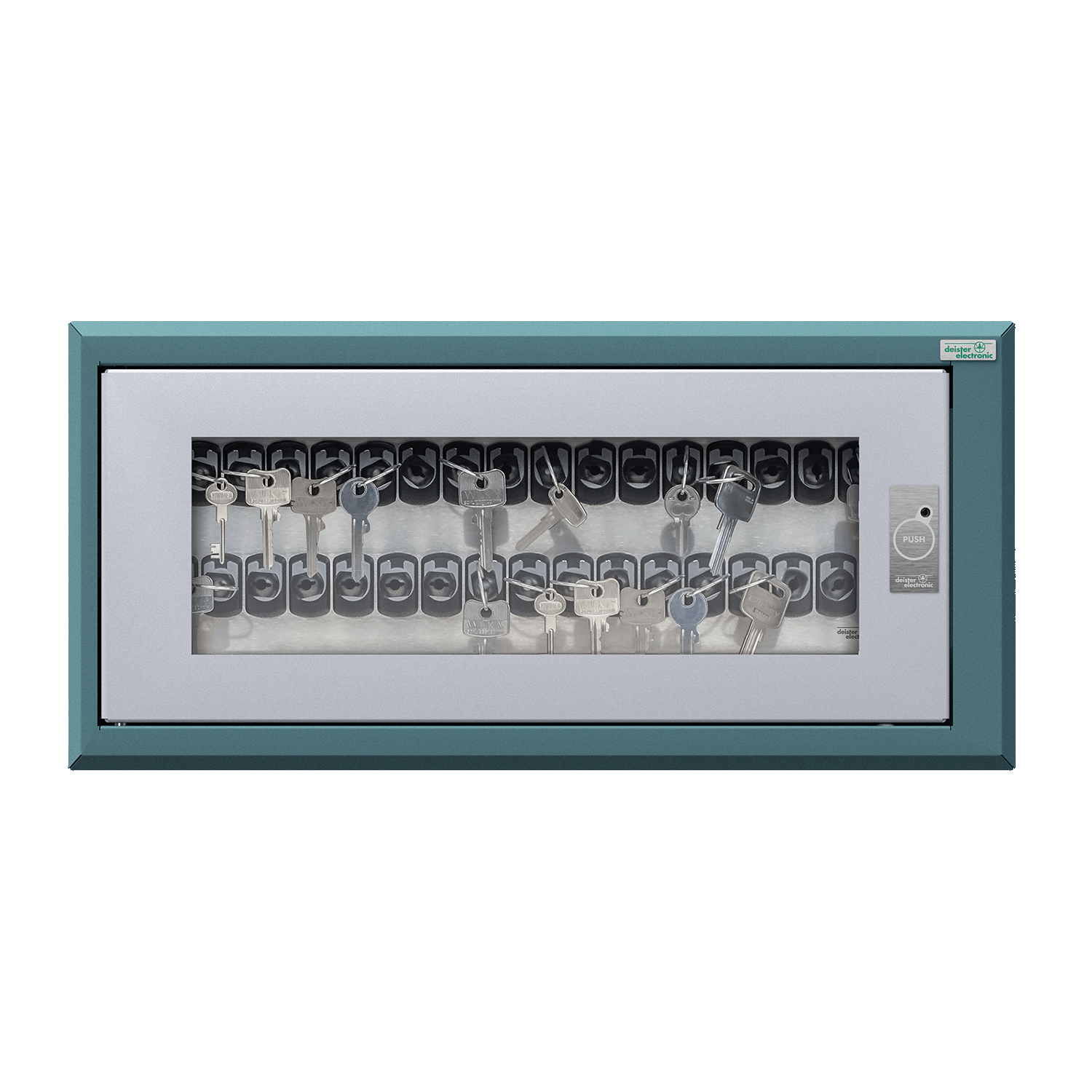 smart Cabinet 3U v3 (1 Panel, door with window)
Product information "smart Cabinet 3U v3 (1 Panel, door with window)"
The proxSafe smart 3U V3 is the perfect choice to keep a small number of keys safe and to issue them exclusively to authorised people. Users and keyTags are identified con-tactlessly; all procedures are logged automatically.

It is possible to operate the proxSafe smart 3U V3 in conjunction with different terminals: C1-C4 can be utilised. The system manages up to 32 keys; to connect to a PC it is equipped with a USB port or, optionally, with an Ethernet connection. Each proxSafe housing is equipped with tamper contacts and 4 relays; these are not only designed to signal different alarms via a network but also locally.

The keyPanels are installed at the place of installation with different slot densities. The size of the memory of the opera-tor terminal facilitates seamless operation, even in the event of a network failure. An installed battery provides power in the event of a power failure to always ensure the operational availability of the system. In an emergency it is possible to unlock all the slots with the aid of a security key.

Key slots and keyTags are designed for robust operations. The use of RFID technology means the keyTags are not affected by soiling, corrosion, or wear. proxSafe keyTags and the corresponding slots need no cleaning or maintenance whatsoever.
Your benefits at a glance:
Energy-saving mode with back-up battery for very long-term operations
Contactless technology, maintenance-free
Straightforward emergency opening feature

Standalone operation or remote controlled
4 outputs for local alarms
Technical data
Dimensions WxHxD: 630 x 299 x 218 mm
Weight: 15 kg
Housing material: Sheet steel, powder coated
Sheet steel gauge: Housing / Door: 1,25 / 2 mm
Colour: Similar to RAL 9006, DB502
Operating temperature: +5…+50 °C
Relative humidity: 5…95 %, non-condensing
Power requirement: 110…240 VAC
keyTag frequency: 125 kHz
Backup battery: 12 VDC/ 2,3 Ah
Isolated contacts: 4x 30 VDC / 1A for up to 16 alarms
Certifications: CE